Think peach blush when considering wedding makeup tips for your skin tone. This flattering color will add a touch of warmth to your complexion and make you look radiant on your big day! Here are a few tips to help you choose the right shade of peach blush and create a beautiful bridal makeup look.
Tips for wearing peach makeup on your eyes, lips, and cheeks
Tip 1: Consider Your Skin Tone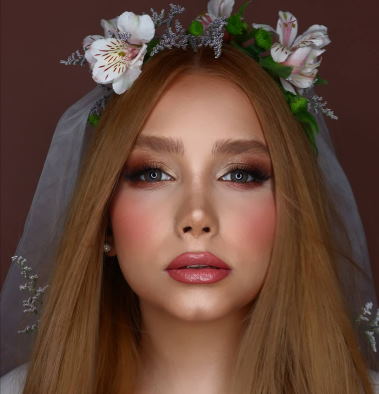 When choosing a blush color, it's important to consider your skin tone. Peach blush is perfect for fair-to-medium skin tones, as it will give you a natural-looking glow. However, opt for a more coral or orange blush shade if you have darker skin.
Tip 2: Find the Right Shade of Peach Blush There are many different shades of peach blush available, so it's important to find the right one for your complexion. The best way to do this is to test out different colors until you find the perfect match. To do this, swipe different shades of peach blush along your cheekbones and see which looks most natural against your skin tone.
Or…try THIS little trick: pull out an old lipstick that you no longer wear (it doesn't matter what color) and place it beside your current blusher – if they're close in color, then the blusher will be suitable; if they're vastly different then the blusher won't work as well on you (or not at all!). And there's always room for error by mistaking sheer pinky/peachy toned lipsticks with correct cheek colors, too 😉 So don't be afraid to experiment!
Once you've found the perfect shade of peach blush, apply it using a fluffy brush in circular motions on the apples of your cheeks. This will give you a natural-looking flush that will last all day long!
Peach blush adds a healthy glow
When it comes to wedding makeup, peachy blushes are always a good choice for creating a natural and fresh-faced look. But if you have any doubts about which shade of peach is right for your skin tone, here are some tips to help you choose the perfect hue.
For fair skin tones…
If you have fair skin, avoiding anything too orangey or dark is best, as this can make you look washed out. Instead, go for a softer peach with a pink undertone – this will give your cheeks a gentle flush of color without looking overdone.
For medium skin tones…
Peachy blushes with a coral undertone are ideal for medium skin tones, as they will add a healthy pop of color without being too over the top. Just apply it with a light hand, as too much can make you look like you've been out in the sun for too long!
For dark skin tones…
Darker skin tones can pull off peachy blushes with deeper, more vibrant hues. If you're fair-skinned with pink undertones, go for a peachy blush with coral undertones to avoid looking washed out. And if you have olive or yellow undertones in your skin, opt for a peachy blush with orange undertones – this will help to bring out the warmth in your complexion.
Now that you know how to choose the perfect peach blush for your skin tone, it's time to get shopping! Check out our roundup of the best peachy blushes on the market below.